–During the first edition of the TRAIL workshop in September 2020,
Karim El Khoury
and
Jonathan Samelson
, started implementing a framework to provide a public and privacy-friendly image representation for video traffic analysis. The goal was to utilize the inexpensive and privacy-friendly compressed domain residual frames for efficient vehicle tracking. In November 2021, their work was published in the Frontiers in Signal Processing Journal as part of a special issue on Deep Learning for Video Surveillance. The publication is accessible via
https://doi.org/10.3389/frsip.2021.765006
–According to Karim El Khoury and Jonathan Samelson, the main issue with big data, and more specifically video surveillance data, is privacy. By proposing the use of compressed domain residual frames as an image representation for deep learning-based object tracking, their AI solution priorities the right of people's privacy while maintaining efficient performance.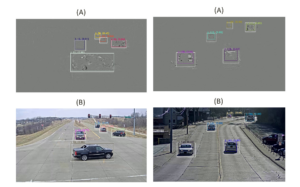 Experimental results of vehicle detection and tracking on privacy-friendly compressed domain residual images (A) versus intrusive decoded images (B)